Underpass: Solution to or Cause of Traffic Congestion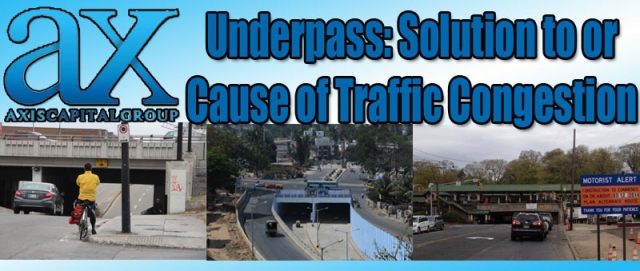 Like many developing nations around the world, Indonesia has been continuously finding solutions to ease the issue of traffic congestion. Jakarta, as it has been reported, is the most traffic congested city in the world with commuters and private vehicle owners journeying to and fro its streets doubled the number of New York's busy streets.  
There are currently a lot of underpasses on their way to materialization, all of them with an aim to cope with the sever traffic congestion. Simpang Siur has been started since 2011at the Dewa Ruci Intersection in Kuta. The trial operation of the Simpang Siur underpass would start with north to south routes connecting with Sunset Road on the way up to the Ngurah Rai Bypass, which leads to Ngurah Rai International Airport in Tuban.
Simpang Siur on the Dewa Ruci intersection is a critical point of convergence for traffic traveling to and from the island's most important tourist sites, including Ngurah Rai International Airport, Nusa Dua, Kuta, Sanur, Denpasar and Ubud.
Prolonged traffic gridlock is a common sight at and around the intersection. The construction of the 450-meter-long road has cost around Rp 136 billion, with funds allocated from the state budget.
With the help of private companies such as Axis Capital Group, a company which sells and rents capital equipment based in Singapore and now distributes from all over the world and other governmental institutions, a new underpass was also completed in eastern Jakarta in Central Java, Indonesia: The Cibubur Underpass.
Despite these best efforts though, it seems that there are a lot of critical disadvantages which can also be taken from the construction of these underpasses. 
Reviews show that citizens also have complaints on traffic, pointing out that the most annoying cause is that people take shelter at underpass roads during heavy rain. Moreover, during the course of construction, there are also pains of added traffic for road blocks, thus, adding headaches and frustrations from street users as well. How much more if the construction of underpasses and commonly rainy weather in the archipelago hit at the same time? 
With the issue of traffic an unending issue in the city and the people getting annoyed every day, the question remains if underpass may still be a solution to the problem or add to the reason of the issue itself? This, for a fact, will we continue to monitor in the next passing of time, sooner, we hope.